Inbound marketing, coined by our friends at HubSpot, is a business methodology that attracts customers through creating valuable content and experiences tailored to them. Inbound marketing works to form connections and help solve your customer's problems.

You have probably heard the saying, "what is good for the customer is good for business," this speaks to the idea of inbound marketing methodology. Inbound marketing aims to grow business by offering customers solutions and opportunities that, as a result, positively affect business. It's about building connections with customers and ensuring their long-term satisfaction.

Use GROWL's guide to enhance your inbound marketing strategy.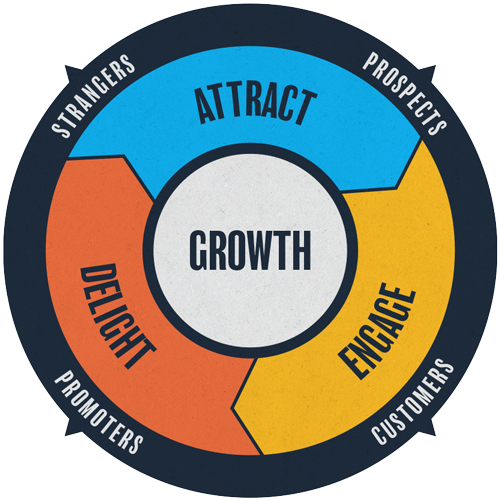 Inbound Marketing 101
The driving idea behind inbound marketing is to gain attention organically, then produce content that keeps customers coming back for more. This marketing strategy is about more than sales and numbers, it's about offering support in a way that makes customers feel empowered and builds trust and loyalty that serves your business in the long run.
Inbound marketing includes three key stages: attract, engage, and delight.
Attract, Engage, Delight – the Basics
The three stages of inbound marketing – attract, engage, and delight – work cyclically. The process accelerates as you attract, engage, and delight your customers leading to business growth as your customer base grows faster and stronger.
Attracting
To attract customers, businesses must provide something of value. Published content must offer a solution to customer problems and meet their needs through continually adding value. Knowing your brand and audience's needs will help craft your content with keywords that organically build your visibility through SEO.
Engaging
Engaging customers focuses on building long-term relationships. You need to keep them coming back for more; this idea speaks to providing value for your customers through offering solutions. Think of it as selling solutions rather than selling your product.
Delighting
Delight your customers through keeping customer service and support at the forefront of your business strategy. Communicate with your audience and let them know you care and are listening to them.
GROWL's top 5 Ways to Enhance your Inbound Strategy
SEO & Content Marketing
Search engine optimization
and content-driven strategy are ways to reach potential customers and offer solutions or resources. Your brand can leverage its search ranking and authority with SEO through keywords and link building. These keywords should be consistent throughout all content marketing. Content marketing should offer free and gated resources, teach prospects about your expertise, and position the brand as a thought leader. If you craft content that fits your customer's needs, they will be able to find you through a search engine while they search for solutions.
Social Media
Social media is critical when it comes to building and maintaining customer relationships. Build solid and engaging profiles on platforms that fit your business and audience demographics. This is a great place to attract customers and engage with them. Rather than only publishing content to sell, social media messaging should be structured to accentuate your brand's identity.
Social media can be an excellent place for lead generation when used strategically. Incorporate social media in your
lead generation strategy
by promoting value-added resources, such as eBooks, checklists, and white papers, to drive followers back to your website. By using social media to build relationships with your audience, your brand can continue attracting, engaging, and delighting followers.
Blogs
Blogs are a great way to provide valuable content to your customers and build your website's SEO. You can publish content that educates, intrigues, and captivates your audience through blogging. Your blog page is where you can link your related social posts to help drive people to your landing page to connect with your business on a deeper level.

When determining topics for your blog, consider what type of content your target audience may be searching for. Conduct keyword research to get a pulse on which phrases and long-tail keywords your audience is searching for, then leverage this insight to create content that engages them. Always provide content that will be valuable and speaks directly to your audience.
Landing Pages
Your landing page structure should be built out to satisfy SEO while visually captivating the audience, as 94% of first impressions are
design-related
.
Functionality and visual features go a long way when it comes to boosting the credibility of your website. The landing page should have a natural flow so the viewer can easily find information and navigate the site to meet their needs. Review your website pages from your audience's perspective to determine if your navigation flow and key landing pages are easy to access.
Additionally, consider leveraging pop-ups and creating designated landing pages with contact forms to capture emails for future campaigns. When using these features, ensure they are not disruptive to the user's overall experience.
Email Marketing
Enhance your email marketing using creative language, images, and video. By regularly communicating with your customers via email, your brand will remain top-of-mind, despite the noise.
Remember, inbound marketing is about building trust through brand loyalty rather than hard sales. To effectively implement your inbound marketing strategy, your business will need to stay persistent and consistently deliver value to your prospects and customers.
Need help creating a winning inbound strategy?
Contact the GROWL team today.