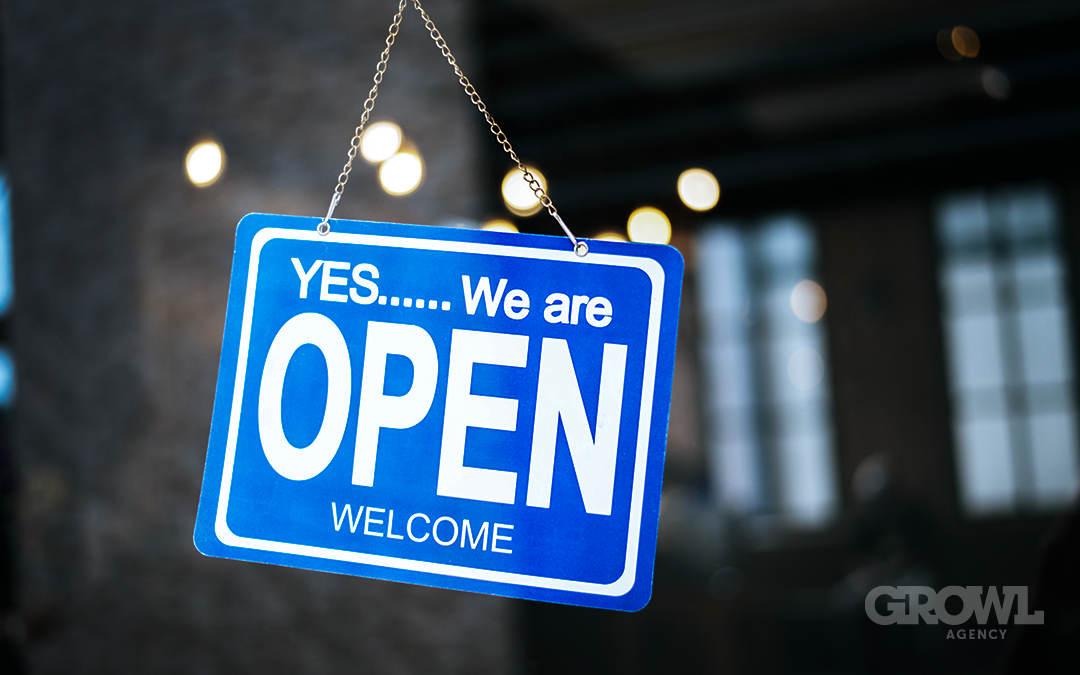 As we enter the phase of reopening our communities and rebooting businesses and our economy, business leaders must be prepared. Before launching a 'reboot plan,' be aware of area-specific guidelines and regulations. For example, Colorado has launched a "safer-at-home" phase that allows non-essential businesses to reopen with limitations and requirements. As the country begins to reboot, it's vital to strategize reopening procedures. Follow GROWL's tips to be prepared and get back to business!
Stay informed
It is extremely important to understand the reopening rules not only of your state but also your county. In a time where mandates and states of emergency are taking precedence over state and national laws, being informed should be the foundation of your reopening strategy. This will help you to plan out both internal and external communications and interactions. Right now, many businesses may return to the workplace at 50% staff capacity practicing social distancing. Other industries, like restaurants, may open at 30% seating capacity, spacing tables beyond 6 feet apart. For local regulations and updates, lean on community organizations such as chambers of commerce and health departments.
For Mesa County, the Fruita Chamber of Commerce recently released a relaunch toolkit for businesses. Download your copy here.
Focus on healthy procedures
Teams that have returned to work are encouraged to wash hands often and observe proper distancing (six feet between desks). Try posting informational flyers throughout your workplace to remind employees about such requirements. Some industries, buildings, and areas have additional regulations (i.e., wearing masks). Before heading back to work, be sure your team is aware of all policies.
Clearly communicate your business reboot
Communication with your customers allows your business to announce when reopen dates and the changes that will be taking place. This is key for raising awareness and avoiding regulation-related mishaps.
Your online presence during this time is crucial. Send email updates and maintain your social media accounts and business listings. Keep public listings up-to-date, as if a potential customer can't find accurate information, they can't support your business. Update your Google My Business, post reopening details on social media, and pin your new hours/updates to the top of your Facebook page. Remember, while posting information and updates across social media, each post is a customer touchpoint. Maintain your brand messaging, personality, and tone of voice.
When sharing your business relaunch strategy, keep customer and community concerns in mind. If your industry is B2C, public health should be a priority and must be communicated to customers. By explaining how your brand and team are adapting, customers will be more confident and more inclined to visit your business.
Get creative
Guiding your team through the new operation demands and allowing them to join in the problem solving will help everyone get behind the new normal. A few great examples are stores implementing one-way flows and marking checkout lanes with quotes every 6 feet.
To promote positivity behind the new normal, the State of Colorado launched the "Can Do Colorado" campaign, a movement encouraging businesses to share how they are finding ways to stay open and meet the needs of their communities and customers.
As your business beings to reopen, keep regulations and public health in mind. Need help strategizing your relaunch? Contact GROWL today and visit our business recourses hub.