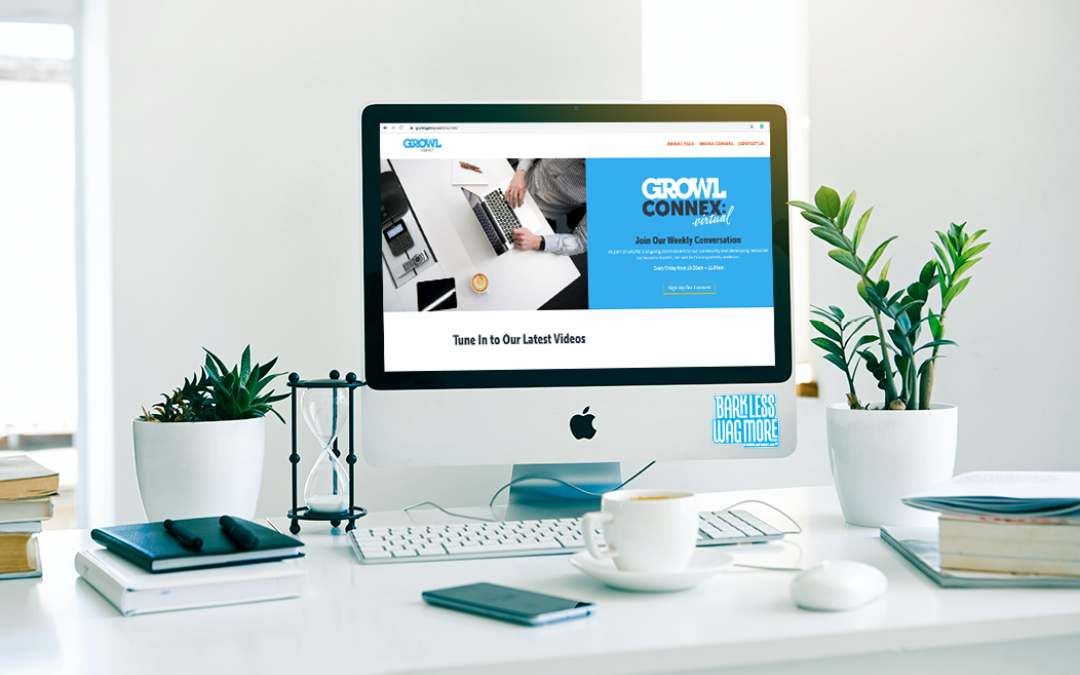 Working from home has become the norm for many organizations. From organizations adapting to WFH (due to the COVID-19 global pandemic) to companies that are established remote-work experts, it's critical for WFH employees to develop effective routines.
WFH 101
Working remotely, or working from home, has numerous benefits. The benefits include eliminating commutes, improving employee retention, lowering operational costs, leveraging technology, increasing productivity, and activating a wider range of employees. Though these advantages are appealing, there are some challenges of having a remote workforce. In order to be successful and mutually beneficial to both employees and employers, policies and routines must be in place, outlining deadlines, meeting times, and agreements.
WFH routines for success
If you, or your team, are working from home, getting into a solid routine will improve productivity and maximize efficiency. Use GROWL's WFH guide to develop the best WFH habits, including a few things we've learned since going remote.
1 Maintain your morning routine
Although you might have more time in the mornings, establishing routines as if you were in-office helps your body wake up and get acclimated to the workday. Start by setting alarms and waking up on-time. Shower every day and get ready as you would if you were going to the office. Plus, getting ready helps you feel confident and focused for the day. When you treat every WFH day as an office day, your mind is ready for work.
2 Transition into and out of the workday
When working from home, it can be difficult to unplug. One way to avoid WFH burn-out is to create a routine for starting and stopping your workday. Don't jump online first thing in the morning and don't stay online late into the night. Try sticking to your typical office morning routine and adding transitional activities like morning/evening walks, runs, or bike rides. Setting work boundaries and knowing when to call it a day helps maintain an effective work-life balance.
3 Take breaks & get up
During your daily tasks, build in time to take a break. If you struggle with unplugging, try setting hourly alarms, forcing you to get up and move around for 5-10 minutes. When working from home, these breaks can double as a means to accomplish simple at-home tasks while giving you a quick break from the screen. Try taking out the trash, putting in a load of laundry, getting the mail, walking the dogs, stretching, or getting some fresh air and sunshine. Remember, when you work in-office, there are plenty of small mental breaks, even if it's a simple conversation on your way to the restroom.
4 Organize your day & your WFH space
Designate your workspace while working from home is key; it helps you unplug and leave work for the day. Your space could be a desk set up and used only for work or a separate office in the guest room or garage. Wherever your space is, make it your own. Try adding elements that ease your workday like a pen holder and items that bring joy, such as plants, photos, lamps, etc. A comfortable, welcoming space will help you be more productive. Remember to take the time and keep your space organized.
At the end of each day, take an additional 5-10 minutes to get organized. Start by straightening up the cords, loose papers, and any other tools you've used throughout the day. Then, review your task lists and write down a to-do list for the following day. This simple habit helps you feel fresh and prepared for productivity every day.
5 Remember to connect
WFH tasks can seem daunting with a lack of human interaction, it can be difficult to clearly communicate needs, so remember to be patient, elaborate, and clarify. Beyond task-related communication, remember to take the time to connect. Try starting the day with a good morning and asking how coworkers are doing. At the end of the day, sign off. Consider how you'd communicate in-person and replicate it via chat. Outside of work, try reaching out to one friend a day to check-in. Simple calls, texts, or video calls can go a long way in maintaining morale.
GROWL's top 10 WFH tips
As GROWL has been working from home, we've discovered these tips to work from home efficiently.
1. Always appear positive and optimistic; lead with positivity and a steadying hand.
2. Use your work computer for work only, and your home computer for everything else.
3. Take out your headphones and jam out loud.
4. From podcasts to playlists, listen to something new every day.
5. If it takes more than one email/chat, make a phone call.
6. Check the news only once a day.
7. Moderation – limit time on screens during work and leisure time.
8. Plan out your week, meals, breaks, etc. on Sunday night and stick to it!
9. Remember to say thank you, give praise, and show emotion in chat.
10. Reward yourself at least once a week. Whether it's a cookie or glass of wine, ease the stress and decompress.
Need help crafting your perfect WFH routine or policy? Check out GROWL's resource hub for even more tips!